The CAS AT7 is the original Off-Road Slinger. The fully remote controlled, four wheel drive all-terrain AT7 is designed to place material in difficult and hard to reach areas. With a 12' footprint, this vehicle can fit in the tightest of spaces. Although it has a small footprint, powered by a 225HP CAT engine, it can sling material up to 150' and is designed to stay on-site and move large volumes of material. 
Built to fit your needs and specifications.
Distance Package (standard)
Volume: Up to 3 yards per minute
Distance: Up to 150'
VOLUME PACKAGE
Volume: Up to 9 yards per minute
Distance: Up to 90'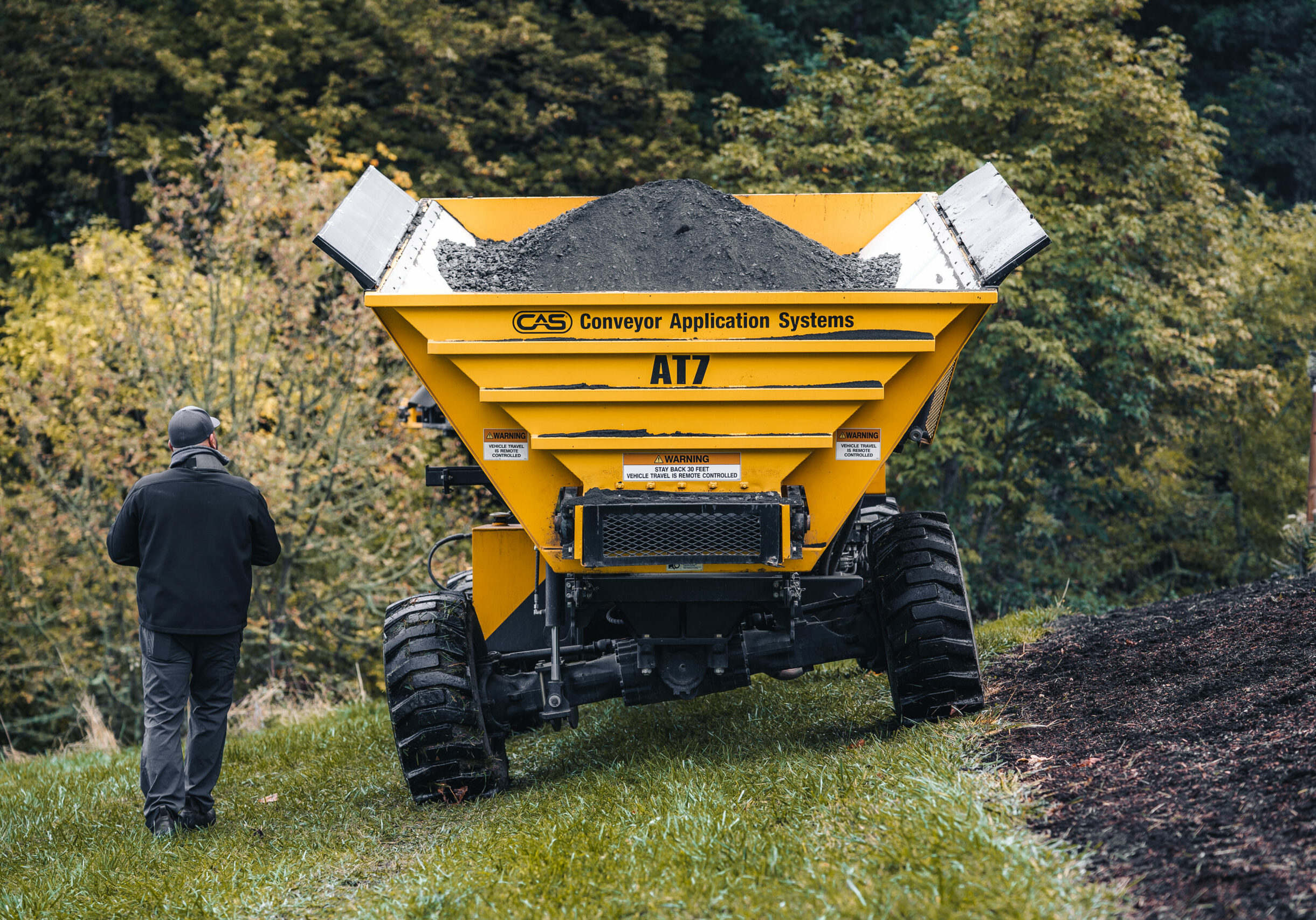 The versatile AT7 can maneuver the most difficult of job sites, with selectable 4-wheel drive , two-way steering, four-way steering, crab steering, and both forward and reverse creep modes. Fully Remote control functionality allows the operator to safely place materials in areas that would otherwise put operators at risk.
No other slinger on the market has the power and ability to place material accurately at a distance of 150 feet. Powered by Cat® C7.1 Industrial engine with 225 HP.
CAS®'s proprietary placing belt is custom made to have 33% more cleat rubber than the competition and is wear & abrasive resistant to provide greater life.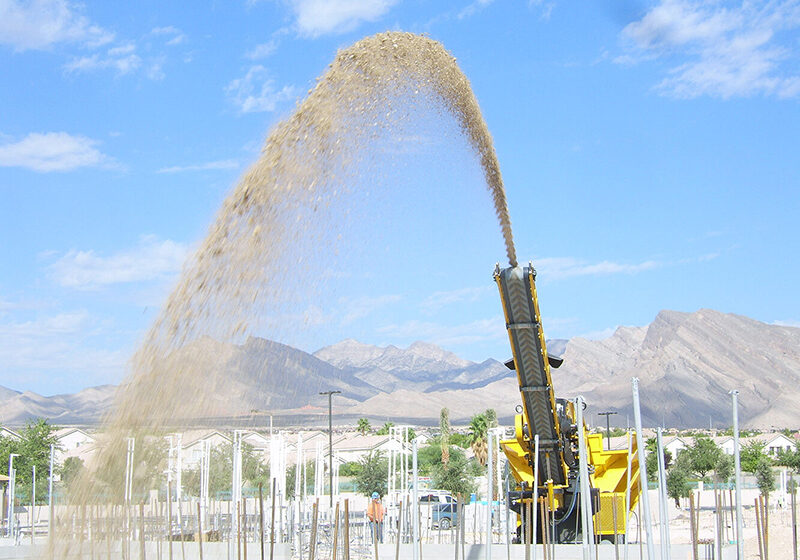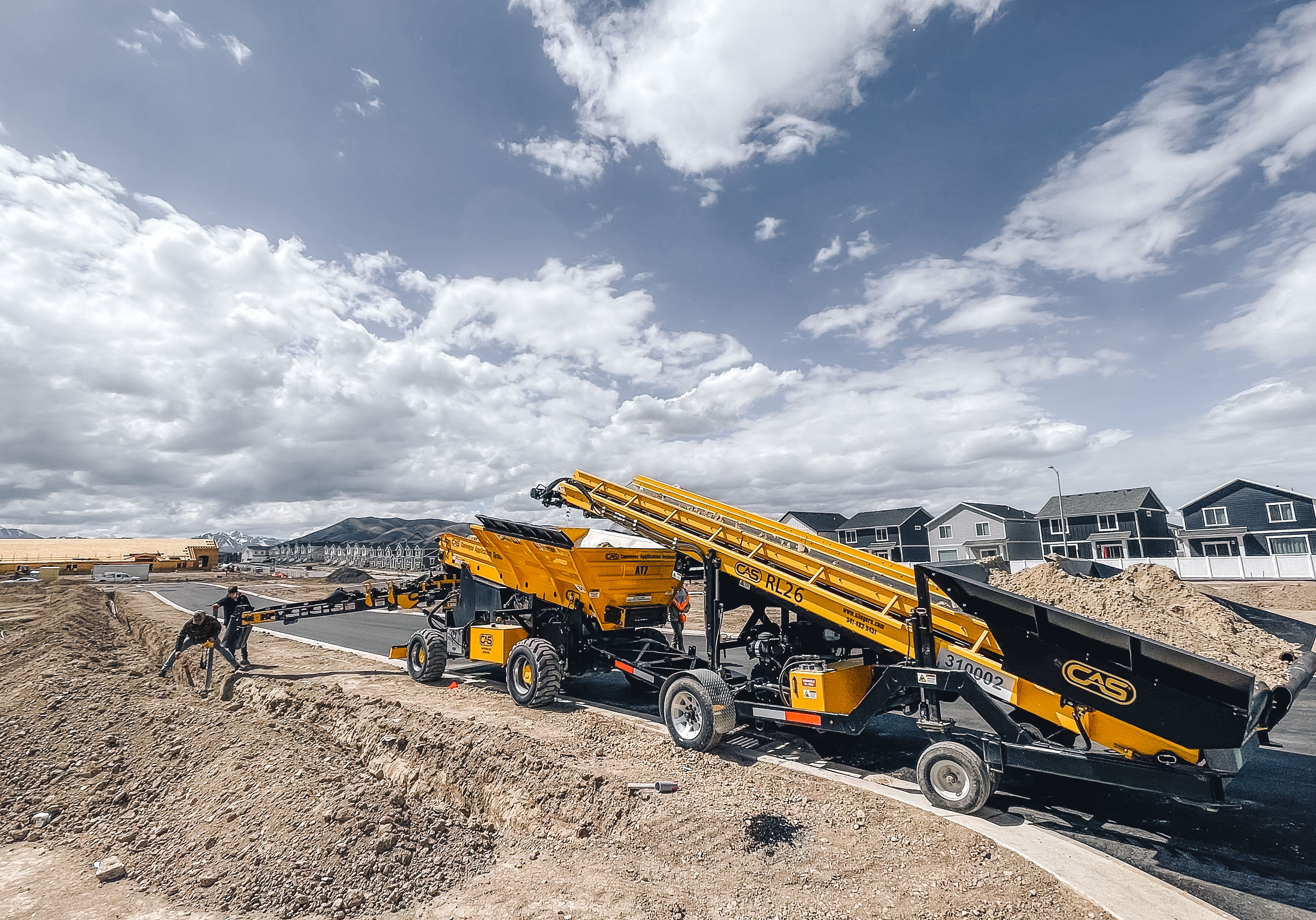 The AT7 can be hitched to RL26 Reloader to create a continuous material placing system. Straight from the dump truck right into the machine, no handling of the material multiple times, no waste, and reduced labor.
Choose from a variety of placing attachments designed to maximize material placement accuracy and efficiency.
With over a 100 years of experience transforming our nation's infrastructure, Goodfellow Bros. knows what it takes to become an industry leader in heavy-civil construction. Completing jobs more effectively and efficiently with the use of the CAS AT7.

Ready to start moving material?