EZ FLOW: Skirtless Feed Floor
---
The CAS EZ Flow features a skirtless feed floor, the first of its kind in the industry. This patent pending design not only greatly reduces the need for maintenance but also allows the EZ Flow to efficiently handle a wider diversity of material.
Reduced maintenance

No material leakage

Wider floor for more materials
Traditionally, a slinger utilizes skirt rubber along the inside edges of its hopper where it connects to the feed floor to create a seal to contain and control material. This area takes continuous abuse from the material as it flows and as a result these parts are subject to significant wear, requiring maintenance and replacement over time. The EZ Flow's skirtless feed floor instead utilizes a raised accordion style rib on the outside edges of the feed floor to contain material from being able to flow over the edges of the floor. The hopper has been engineered with a steel flange that comes over the inside of the raised accordion which creates a tight seal without the need for skirt rubber, thus eliminating time-consuming maintenance while increasing longevity of the feed floor.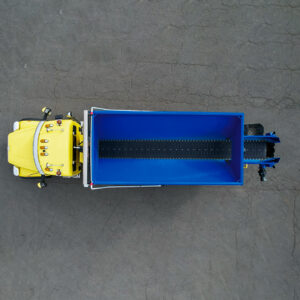 Furthermore, the design creates a wider operational area of the floor at 30" which allows for less bridging and accommodates a better flow for a greater diversity of material. This allows the EZ Flow to place more difficult materials at optimal performance levels.  
 The skirtless feed floor eliminates maintenance, increases efficiency, material diversity, and feed floor longevity.